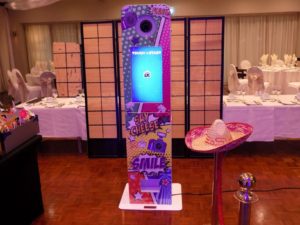 Selfie Pod – The Open Air Photo Booth
Welcome to our SelfiePod, it's small and compact and fits into the smallest spaces but makes a big impact. Perfect for weddings, proms, parties and corporate events
Our SelfiePod has all the great features of a photo booth but as it's not enclosed and with a wide angle lens it's ideal for larger groups, so everyone can get in on the fun. It's a perfect choice for venues where space is at a premium.
Party package includes the following.
Supply of SelfiePod
Setup and Configuration
3 Hour Hire
Trunk of Props
Free standard backdrop included if required. We can supply a bespoke themed backdrop at extra cost. Price on application.
Canon DSLR 18 mega pixel HD Camera for the sharpest laboratory quality instant prints
Unlimited Visits and Photos
400 Printed Pictures
Your Names and Date on Photos
USB Memory Stick, which stores all photos, will be given to you at the end of the evening
Images uploaded to Online Password Protected Photo Gallery.
Public Liability Insurance
Photo U staff for the duration of the hire
Super easy to use, once our operative has pressed the start button the Pod with take 3 photos with a count down displaying each 1 before taking the next, once all 3 pictures have been taken within seconds it will print a copy with your names and date of event. If you have chosen the 'double prints' option (see optional extra below) it will print 2 copies, 1 for your guests to take home, 1 for the supplied guest book for them to leave you a handwritten personal message (we supply everything – pens, glue & guest book).
Online Password Protected Photo Gallery. All the images taken during the event will be available in the photo gallery. Your guests will be able to download copies to their devices and direct to Social Media.
Our Party Package is a super competitive £295 if booked with Sound Division disco
Normal price £325
(Additional fee will be required for travelling if over 30 miles from Shoreham, West Sussex for selfie pod only booking)
Optional extras:
Double Prints with Photobook +£60
The Selfie Pod only booking is available 6 days a week, on Saturdays the Selfie Pod can only be booked in conjunction with booking a Sound Division disco.
Why you should choose a Selfie Pod over a Photo Booth
You love the idea of a Selfie Pod or a Photo Booth but you just cannot decide on which one to go for and unfortunately doing a poll with your guests prior to the event will definitely ruin the surprise!
There is no doubt that both options give an experience to your guests and both options will give you a good quality print that both you and your guests can take home. Our Selfie Pod should not be confused with some pods that simply use an iPad camera. We use a Canon DSLR 18million pixel HD Camera for the sharpest laboratory quality instant prints, the same as photo booths. Checkout prices to see which of the 2 are cheapest to hire.
So what are the deciding factors as obviously you wish to make the right decision, you want that something special that will get everyone talking, that will create a buzz at your event but you are torn between the two and don't know which option to choose!
Let's start with the photo booth… large in size it will fit approximately four to five people in it, you can choose from a number of backgrounds either in keeping with your theme or something a little more crazy transporting people around the world and you get a digital copy of all the pictures provided in addition to a supply props to create an element of fun. The enclosed environment allows for perfect lighting and no interrupted pictures sound great right? While the pros sound great, let's look at the cons…
Having a photo booth means you need to have the space in your venue for it, many venues have a table plan or a layout for a particular amount of guest this allows their staff to safely and freely move around the venue to cater for the needs of your guests so will having a photo booth mean you have to invite fewer guests (and what if you are already struggling in cutting down the guest list!) or another option is that it could be positioned outside of your function room perhaps in the foyer or reception area, if this is the case will people go out of the event to use it at all and if they do will it make your event look empty thus resulting in a lack of atmosphere? Also with its large size will it look like an eyesore amidst your beautiful vintage decor?
Space is not only to be considered when positioning the photo booth as with limited space within the booth action shots or those impromptu moments will be restricted and let's face it having an Uncle John or an Aunt Mary photobomb you're perfectly posed picture may just be the shot of the night!
Choosing a backdrop may seem like great fun but is it really reflecting the mood and atmosphere of your event if all your photos are set in Vegas? Looking at the setup for the photo booth and thinking of your guests, will it suit them? If there are children at your event will an adult have to go in to raise them up to the level of the camera? Does this then give you a completely different photo that you would have received if the children had gone in alone and expressed their own little personalities without an adult present… of course, it would we all know our little bundles of joy are unpredictable, its why we love them! Another con to consider is accessibility, are there any wheelchair users at your event will this eliminate them from the fun? The last thing you want to do is only cater for a small number of guests you want all elements of your event to be available to everyone!
Looking at the Selfie Pod the pros are automatically visible having read the cons of the photo booth. Size and Shape is much smaller helping it to blend into your event. But the big pro is that it is accessible to everyone, whether you are an adult, a child or in a wheelchair, no matter what your size or shape the Selfie Pod is for everyone. Whether it be a group of friends, cousins or a family shot or perhaps you want your own moment of fame in your perfectly chosen outfit for the event whatever the reason, step right up as the Selfie Pod caters for all!
Interaction is a big pro with the Selfie Pod, the photo booth will simply countdown and take your picture, however, the Pod encourages you to show your personality, to pose, to laugh, to enjoy yourself and giving an all-around personal experience! The booth is fun but the Pod is a whole new game and steps up the competition!
There are very few cons to the Selfie Pod, one would be that unlike the photo booth guests are not hidden away, their posing, pouting and antics are visible to everyone that chooses to observe at the event, however this could also be a fun experiencing encouraging everyone to take part, no-one wants to be left out of the action and is visible to all, you may just have a completely new form of entertainment with each guest that uses it!
Overall if it is a controlled environment with perfect light every time (And no opportunity for photobombing) then the photo booth is for you, guests will still be able to use props, enter the booth in small groups or individually and the background can be chosen by the event host, however make sure you have the room for it in your venue and that it will suit all of your guests!
If it is size, accessibility and fun that you want then the Pod is for you! This will cater for more people per snap than the booth, interaction with the Pod also creates that fun cheeky element and guests can have a perfectly posed picture, however, they are also encouraged to be more daring and pose and show their personality. They are complemented by the Pod as well! The Pod works for everyone regardless of age, shape or size.
Photo booths have been around for a long time however it's time for something new, something a little more interactive, something that looks different and something to create new memories that both you and your guests can cherish forever!